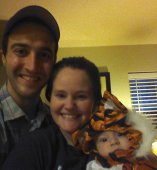 Welcome to my site! I'm a software engineer in Lawrence, KS, and I like blogging about Python and programming in general. I'm also an avid motorcycle rider and cat wrangler. Below you can find a list of my most recent blog posts.
If you're new to the site, here are some of my more popular blog entries.
I thought I had arrived. One of my open-source projects started gaining a small following on GitHub. No more nagging self-doubt, the thousand or so star-gazers of my project provided all the validation I needed. Here was something I could conjure up in moments of doubt, reminding myself that I truly was all those things I wanted to believe about myself. I never stopped to think that the stars might not be for me.

* * *

All this got turned on it's head, though, by one of those very people who I set so much store by. I'm thinking in particular of one person who was using my project to manage the backend data-storage for his company's platform. It was a critical function, and as the CTO of his organization, he was responsible for ensuring it was technically sound. He was very invested, professionally, in the direction of my project. This was a sharp contrast to most people I'd talked to, who were using my project for side-projects and hobbies of their own.

The combination of his expectations of me, as a maintainer, and my beliefs about my own motivations for sharing my code led to a pretty unbelievable series of events.

SQLite's write lock and pysqlite's clunky transaction state-machine are a toxic combination for multi-threaded applications. Unless you are very diligent about keeping your write transactions as short as possible, you can easily wind up with one thread accidentally holding a write transaction open for an unnecessarily long time. Threads that are waiting to write will then have a much greater likelihood of timing out while waiting for the lock, giving the illusion of poor performance.

In this post I'd like to share a very effective technique for performing writes to a SQLite database from multiple threads.

For the past six months or so, I've been experimenting with a variety of monospace fonts in a quest to find the perfect coding font. While I haven't found a clear winner, I have found a dozen nice-looking fonts and learned a lot about typefaces in general. I've also learned quite a bit about font rendering on Linux, which I hope to summarize in a separate post soon.

In this post I'd like to share some screenshots (or "swatches") of my favorite fonts.